MacGyver: The Red Tail Hawk
For several years, the residents on Dickersonville Road watched a mated pair of red tail hawks peacefully soaring in the sky, hunting in the fields, and never bothering anyone. Red tail hawks, also known as Chicken Hawks or Buzzard Hawks, are monogamous; often mating for life. With their excellent eye sight, eight times that of you and I, they can soar at high altitudes to hunt their prey. Tolerant of mankind interaction, unless defending their nest, they have been found nesting in largely populated cities, such as New York.
However, this peace was soon to be disturbed. A retired detective had found the female red tail injured in the field, unable to fly. A flurry of phone calls came into Wild Kritters – other rehabbers, Sheriff Department and concerned residents – all looking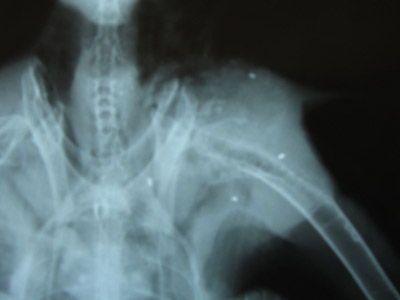 for someone to help the injured bird. Two of our volunteers went to assist the community.
When they arrived, the retired detective had the female hawk already in a vented box. He, his family, and others from the neighborhood were relieved to see help arrive. As the volunteers were transferring her from the box to an appropriate carrier for transporting, they noticed a large cut on her back and neck. Once back at Wild Kritters headquarters, the volunteers were able to clean the wound and get a closer look at it. The wound was a large, very deep and opened one.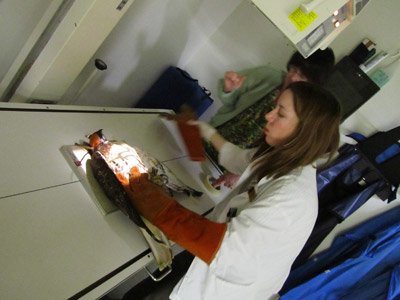 Determining the hawk needed immediate veterinary care, she was transported to Dr. Wade in Lancaster for examination. Dr. Wade's diagnosis: the hawk had a broken clavicle and would need surgery; and indeed, the wound was infected. She was also disturbed by the spots on the x-ray, indicating "those spots could be from a gun shot." Surgery was scheduled and MacGyver, our new name for the red tail, came back to Wild Kritters to recuperate.
MacGyver's wound, once deep and infected, was now a long line of stitches and large bald spot. (And yes, the spots on the x-ray were from a gun shot.) The wound would need cleaning, twice a day. The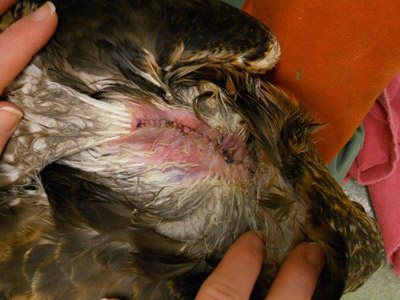 location and extent of her injury required MacGyver to be kept in an enclosure that limited her from stretching her wings and tearing her stitches out.
Six weeks later, MacGyver's stitches are healed, leaving only the large bald spot. She still cannot be taken outside. Instead, a new indoor cage had to be built for her. (THANK YOU Fox Fence and Home Depot). She will remain in this indoor cage, until the weather is a bit warmer and she is well enough to be transferred to an outdoor flight cage. The flight cage will allow MacGyver to stretch her wings, building up her strength, allowing her to soar once again in the wild with her mate.
Should it be determined that MacGyver cannot be returned to the wild, she will always have a home with Wild Kritters. We will license and "adopt" her as one of our educational birds, providing her with whatever care she needs.