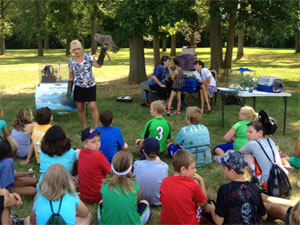 There are different types of events that we participate in throughout the year.
We attend community events such as Sanborn Farm Museum (Sanborn, NY), Pigapalooza (Ransomville, NY), and Wheatfield Town Picnic (Wheatfield, NY) just to name a few. We use these opportunies to educate the general public about wildlife. We hand out flyers about local wildlife and show our program animals, explaining how they were injured and how we helped them. We also promote other events we will be attending to each community so they can spread the word about who we are, what we do and how the community can help.
We also do educational classes at schools and for organizations such as Flips Gymnastics (Lockport, NY), Ransomville Story Hour (Ransomville, NY) and several others. At these events, we bring our program animals and teach children and parents about wildlife. We cover the DOs and DON'Ts when dealing with wildlife and what to do when you encounter a wild animal. Teaching best practices and safety is our priority at these classes.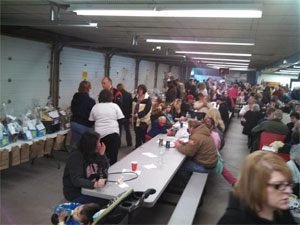 Finally, we have an annual basket raffle that brings the entire county together to help us rescue, rehab and release the indigenous animals native to our area. This will be our 8th consecutive year holding this event. We have businesses from all over Niagara County offering up generous baskets of goodies for us to give away in a basket raffle setting. We have gift certificates and actual products varying in size and type. This event is fun for all ages, both children and adults. We always have our program animals on display so you can learn about them too! And don't forget the FOOD! We always have wonderful food such as, Chili, hot dogs, homemade baked goods and so much more! There will be something to eat for everyone!
If you would like us to come to your school or organization to talk about wildlife safety and to bring some of our program animals you can call us at 716-830-4375 with your questions or simply fill out our Event Request Form.
We do not charge to come and speak to schools or organizations. We just ask that you provide a donations list of supplies (seen here) to the families that attend the class. This allows the attendees to have the opportunity to help in any way they can; be it supplies or monetary donations. This helps us provide supplies to our volunteers so they can do more and help more animals throughout the season.
Thank you in advance for your support!
EVENTS FOR 2023
APRIL
DATE
EVENT
TIME
12
RANSOMVILLE GIRL SCOUTS
3924 Ransomville Rd
Ransomville, NY
6 PM - 7:30 PM
28
NTHS ANIMAL CLUB
405 Meadow Drive
North Tonawanda, NY
2:45 PM - 3:45 PM
JUNE
DATE
EVENT
TIME
4
ANNUAL BASKET RAFFLE
3F Conservation Club
904 Swann Rd
Youngstown, NY
12 NOON - 5 PM
10
RANSOMVILLE FAIRE
3733 Ransomville Rd
Ransomville, NY
10 AM - 3 PM
JULY
DATE
EVENT
TIME
22 & 23
SANBORN FARM FESTIVAL
2660 Saunders Settlement Rd
Sanborn, NY
10 AM - 5 PM
30
LIONS CLUB ARTS AND CRAFTS
641 Lake Street
Wilson, NY
10 AM - 4 PM
AUGUST
DATE
EVENT
TIME
6
WHEATFIELD FAMILY PICNIC
Fairmount Park
6812 Nash Road
Wheatfield, NY
11 AM - 5 PM
19 & 20
Sunflowers of Sanborn
3311 Saunders Settlement Rd
Sanborn, NY
11 AM - 5 PM